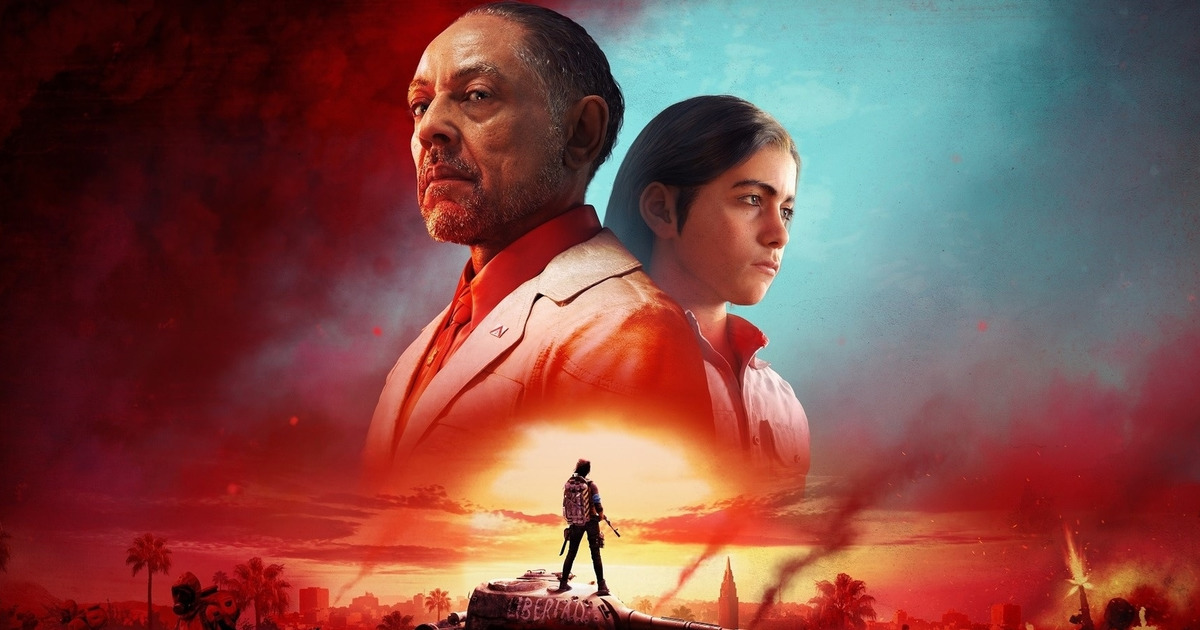 Whenever a high-level Ubisoft franchise receives another installment, the game usually has a pretty huge hook.
In 2020's Watch Dogs Legion, the developer proudly touted the mechanic wherein nearly every NPC is playable and can be recruited into a resistance movement to free London from a techno-dystopia. 2021's Far Cry 6 was built on the premise of becoming a guerrilla fighter on a fictional South American island saving their home from its dictator president, Anton Castillo.
Both of those central premises have to support their respective games at all times, especially since they're both open-world titles. At GDC 2023, Ubisoft Toronto's lead writer Heli Kennedy (Far Cry 6) and narrative designer Brandon Hennessy (Watch Dogs Legion) talked about the challenges they faced and methods they used to keep the plots vital and character arcs significant in their respective games.
This piece specifically focuses on 2021's Far Cry 6, with another on Watch Dogs Legion releasing soon.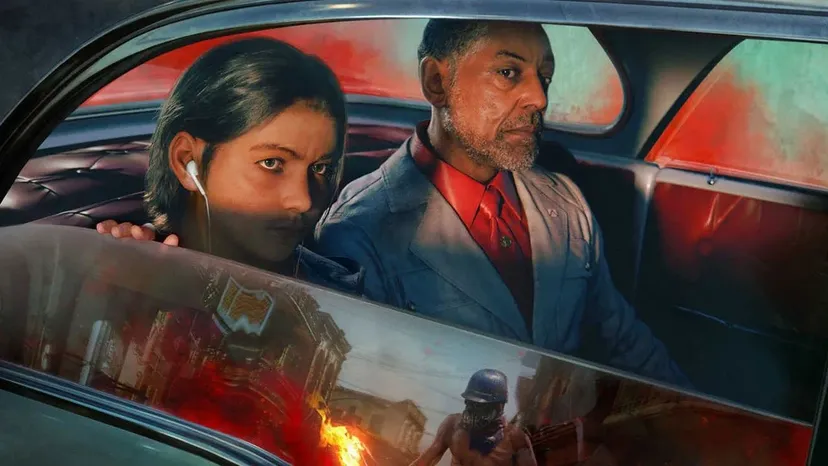 For Far Cry 6, Kennedy talked about how the main writing challenge was balancing the size of Yara (the game's setting) with the arc of its protagonist, Dani Rojas. While Dani's story was about the rise of a resistance leader, Yara itself had to tell a story of its own. The island is divided into multiple territories, and the aim was for each of them to have their own distinct theme and purpose that fed into Yara's history as a whole. As noted in Kennedy's slides: "Yara is filled with people fighting their own revolutions. […] 'Revolution' had to be present in every facet of a country that was hundreds of years old."
Far Cry's cinematic language
One way that Far Cry 6 keeps the plot and its characters central is by employing a new (for the series) cinematic language. Where previous games such as Far Cry 5 used first-person storytelling to tell their narratives, Ubisoft Toronto opted for more third-person camerawork with the most recent entry. Kennedy acknowledged how commonplace techniques like cutaways and third-person views are common parlance in film and TV, but said it opened up new possibilities for the series. "We're free to jump into President Castillo's life without needing Dani present," she said. "We can show Anton reacting to something Dani's done elsewhere in the country far from the capital. Players can see how they've impacted the president through completing missions."
It was just as important that the characters (good and bad) in each region reflected those respective themes, and had arcs throughout the mission chain. Further, the game's cast "needed unique stories that fed into the theme of revolution," according to Kennedy.
During the presentation, she used the game's Máximas Matanzas faction in the Balaceras region as an example, highlighting its protagonists (Talia, Paolo, and Bicho) and antagonists (María Marquessa and Edgar Reyes). In the game, the central characters are introduced gradually via cutscenes, and show real growth during and after missions. In the graphic below for the entire Matanzas story chain, you can see which of the three protagonists is positioned as the lead of each mission (with all three of them represented by a specific color), what missions connect to others, and the like.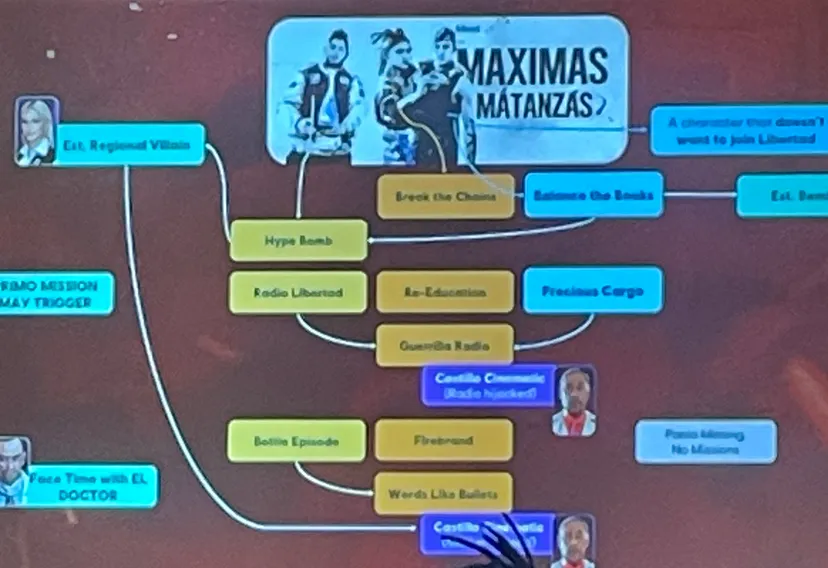 "We aimed to slowly introduce all the characters as moving parts so as not to overwhelm the player," Kennedy explained. "Once you've met all our key characters for the region, another layer of missions opens up for all of them at the same time. At this point, you can do any one of them in any order. […] Through a combination of selectively triggered missions, progression-triggered special [Primo] missions…Dani goes from civilian to a national hero."
Far Cry 6's DLC changed the series' storytelling even further
This past December, Ubisoft Toronto released Far Cry 6: Lost Between Worlds. As Hennessy described it, the standalone expansion has a "totally different feel" from the main game, as it incorporates roguelike elements and has a more fantastical, sci-fi story. Due to the game's scope, Lost Between Worlds needed to have a "very, very simple story," and Kennedy settled on using a five-act narrative structure akin to a kids picture book to get the narrative across. "Picture books have clear arcs, and they're quite short," she explained. "They're also defined by a constant plot movement and use page turns to push the story forward."
In Lost Between Worlds, Dani crosses paths with a non-corporeal being named Fai who needs Dani's help to repair its spaceship by traveling into dimensional rifts. With the rifts, said Hennessy, the narrative stories are essentially overlaid on top of one another. "Even though we had a level-based game structure, our story structure was driven by this one big long emotional arc divided into five segments." To illustrate the mission narrative to the internal team, he created a diagram where the bottom layer represents "all the video game-y stuff," and future layers are peeled back as players continue playing.
The expansion was meant to be played in "multiple gameplay contexts," he said, which was fitting, since the rifts were going to be replayable. The narrative team wrote "big pools of content" that could be pulled from at random, and in total, each act features over 100 short VO conversations between Fai and Dani. Most of the lines weren't tied to a specific level, and since player direction and exposition were left behind for Lost Between Worlds, it allowed the team to focus on Fai and Dani's relationship. Within a day, the writing team generated a list of topics that could be explored between the two characters before eventually settling on a metaphysical tale about what it meant to be a person and have a physical body.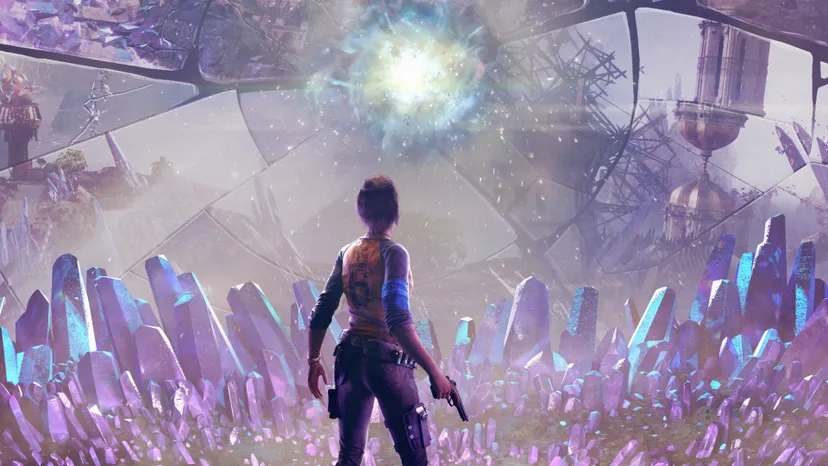 With Lost, Ubisoft Toronto was able to remove the gameplay dependencies it normally employed, which he said made it easier to start testing the expansion. By using Twine to create a prototype, it was possible to playtest it before it was actually built. "Twine let us check the flow and internalize the narrative system and communicate that with the team," revealed Hennessy. "It let us get a sense for what the story was going to feel like in some sort of interactive form." There were structural and production benefits to this approach, he said, and overall he found Lost Between Worlds' story to be surprisingly coherent and able to deliver a satisfying character arc in a short expansion.
Citing how Far Cry 6 built its story around themes, Hennessy and Kennedy recommended that other narrative designers find ways to develop characters beyond relying on video games' layered quest arcs. They also advised that narrative designers ensure the storytelling approach matches a game's scope or scale, and to be sure the development team is structured accordingly. "Know when you want to or need to give the character and player an intimate storybook narrative, or sweep them along on an epic," suggested Kennedy.
When asked during the Q&A about how to keep a narrative arc in an open-world game (particularly RPGs), Kennedy said it would be best to know a story's overarching themes and dramatic statement. "Those can help pull things together rather than granular story bits. If you know them for your world and you have all these disparate stories that need to be connected, they should have echoes against and for your dramatic argument. […] It makes it also feel like a well fleshed out world along with the story."