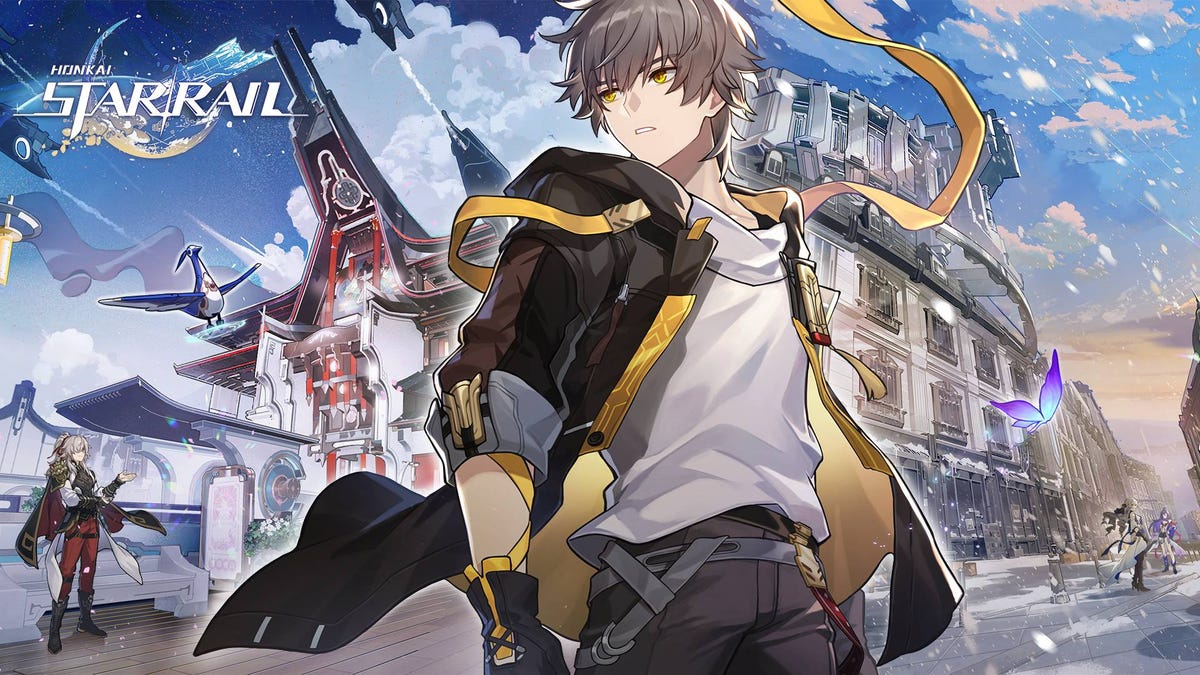 After seeing Honkai: Star Rail for a few minutes during a live media preview, I mostly liked what I saw. HoYoverse's "space fantasy" RPG doesn't reinvent turn-based combat, but the performance was smooth. The fighting animations were among some of the best I've seen out of anime games in recent years. The combat's turn tracker, team combos, type matchups, and battle animations were reminiscent of games like Shin Megami Tensei and Persona 5. But HoYoverse absolutely does not want you to think of it as either of those games. Besides the seeming identity confusion, my conversation with the developer left me without much optimism about racial inclusion in Star Rail's space fantasy.
Here's how Star Rail works: Although you start off with a protagonist character, most of your roster will come out of rolling for wives and husbands through the gacha system. You use them to explore maps filled with enemy encounters (rather than real-time combat like in HoYoverse's current mainstay Genshin Impact).
Once you run into an enemy, you'll start a turn-based battle. Each of your four party members will have two skills. Some will be offensive, while others will be support or healing based. Each attack corresponds with an element, and using elemental type matchups effectively will allow you to break shield bars. Once an enemy is vulnerable, you can use team combination attacks to kick them while they're down.
Despite the relatively simple combat, the game will feature an auto-battle mechanic. This should make it easier to grind daily battles for resources, which is an essential feature some modern gacha use to keep the games alive.
Star Rail will have a main story campaign and regular sidequests. While it shares similar characters from Honkai Impact 3rd, Fish Ling, a representative from HoYoverse, assured me that there wouldn't be any story crossover with their incredibly lore-heavy real time action game.
Driving Honkai: Star Rail's development was HoYoverse's desire to diversify its portfolio from the usual action games it's released, according to Michalel Lin, another representative for the developer. Secondly, HoYoverse felt turn-based combat was conducive to "the story that we want to tell." Its design philosophy was driven by the desire to make turn-based combat approachable for newcomers.
Things got murkier, however, when I tried to ask who the target audience is. The Star Rail presentation mentioned that the game would feature different cultures. Remembering how badly Genshin Impact flubbed depicting darker skinned people and Southwest Asians in the Sumeru update, I asked how the developers intended to improve representation in Star Rail. What lessons did they learn from the overseas community?
"The game is set in a fictional world," Lin said. "What we do is dependent on how the IP grows. As a combination of cultures in our world, there's not a specific culture we target. We will continue listening to fans' feedback, but how the world will be built, we can't say for certain."
It's 2023, and Asian RPGs keep dropping the ball on diversity. This immensely disappointing answer reminded me of Final Fantasy XVI producer Naoki Yoshida's response as to whether or not that game would include people of color. Their answer was that their world was fantasy, so it couldn't be held to any diversity standards at all. Star Rail includes characters who are culturally Chinese, so it feels really shitty that its launch characters seem to be even more light-skinned than those in Genshin Impact. Once again, we have to start holding Asian RPGs to higher standards.
I got similarly vague answers when I asked where Star Rail took its inspiration from. "We think turn based RPGs are very engaging and have an active audience in the market," Lin said. It took me a couple of minutes to remember that the Persona series has sold 16.8 million units globally and was probably at least one of the games alluded to. When I pressed about the studio's creative inspiration, Lin told me Star Rail's team consists of 500 individual developers. Therefore, it would be impossible to narrow down specific influences.
I can guess why HoYoverse is being so coy about its Persona 5 game set in space. It's likely because the internet tore into Genshin Impact at launch for its similarities to Breath of the Wild, to the point where the developer had to reassure players that the game was more than a clone. But Star Rail will likely release sometime this year, and people will be able to see the Persona DNA embedded in how the game plays.
So here's the honest summary of Star Rail: It's a space fantasy game that you'll probably enjoy if you're a fan of the Persona or Shin Megami Tensei series. Be careful of the gacha system, and don't hold your breath over improved diversity from what we've seen so far.