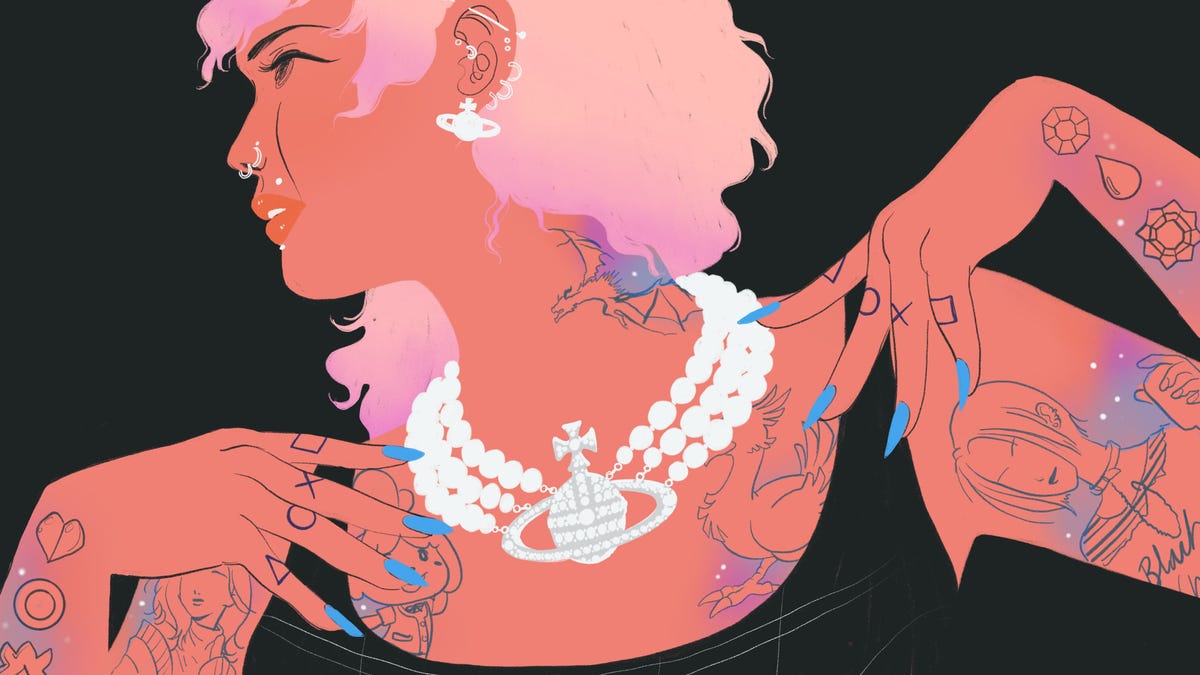 In Final Fantasy XV, you push boyband-haired protagonist Noctis through the city of Altissia just to get a glimpse of a Vivienne Westwood bridal couture dress, which heroine Lady Lunafreya is meant to get married in. As rain falls, Noctis, Prompto, and Ignis stare at the Westwood store window with their hands on the hips of their black jeans.
"Everyone looks so happy," Prompto says. "And it's all because of this one dress."
British designer Vivienne Westwood, who died at 81 years old on December 29 of last year, was the "mother of punk," a tough climate activist, and unrepentant tease. Her inclusion in Final Fantasy XV's somewhat notorious product placement was a welcome easter egg to me—her bridal couture played a similar role in the Sex and the City movie—and the game's art director Yusuke Naora remembers collaborating on the dress as "a good memory," a translation of his recent tweet says.
Like me, some nerdy girls—nontraditional fans of what the past 15 years of The Big Bang Theory decided is geek culture like video games, manga, computers, etc.—can recognize Westwood better by the softness of her 18th century-inspired clothing. Every time we see it in games, manga, or anime, it's a counterculture fashion lighthouse, something to stir us, hopefully, toward gaming salvation.
''I think I'm the only one who is original,'' Westwood said to the New York Times in 1999. "I don't see anyone doing anything that doesn't come from me.''
Feeling unique in a traditionally male-dominated space, nerdy girls naturally want a taste of that originality. Salon wrote in 2007 that gamers are generalized as (I'd add male) "teenagers unhealthily enraptured with murder and mayhem." That was during the 2000's peak of "geek chic"—when heavy black frame glasses, unkempt hair, and graphic tees with Master Chief on them demonstrated sartorial intention. Remember when comic book obsessive Seth Cohen inspired guys by being a stealth dreamboat on The O.C.?
Girls never got a geek renaissance, but now, we can dress ourselves in Westwood. We take notes on her V-shaped corsets, like the ones she made in 1990, with muted prints of Rococo François Boucher paintings across the chest. In 2021, it seemed like every counterculture girl adorned herself with Westwood chokers, three strands of pearls joined by a glittering, stately Saturn—Westwood's orb logo. Today, you commonly find women using Westwood to build video game-inspired outfits, or storing their Westwood accessories among their anime collection.
"I think what makes Westwood's style so adaptable to video games and anime is that it's got bold color, layers, movement, and adaptability," fashion historian and fantasy author Natania Barron told me over email. "It also feels lived-in. So, as customization becomes more and more of a possibility in video games, you can create similar styles that give a real sense of place and tone in a few broad strokes."
Westwood's 1994 fall ready-to-wear collection had models in colorful Hunter x Hunter-type headwear: clownish hats with orange pom-poms on the tip like a lethargic fishtail. Her clothes can be villainously funny, too, steam-pressed commedia dell'arte for women who still want to breathe deep and be unmistakable. In that same collection, Westwood showed white fur shrugs peeled off to reveal a model wearing only a pearl choker, tights, and white fur diaper underneath, like a bizarre One Punch Man evildoer. Her clothes don't lend themselves easily to the mold the stereotypical nerd created for women in his space—breasts bigger than her head, ideally covered by a bikini ready to snap.
But that's what might make them so appealing. Westwood's clothing has been transferred block-by-block to Animal Crossing, and "I think you see a lot of Westwood in the Borderlands games, for sure," Barron said. "That mix of old and new, and Westwood's love of using historic costumes with new materials just feels like a totally natural fit."
More broadly in nerd culture, you can find Westwood in Grimes' galactic music videos, Skyrim reminiscent photoshoots, and the majority of recognizable fashion in Ai Yazawa's 2000's manga series and anime Nana. So much so, that the series' diehard fans (myself included) equate buying Westwood to buying "Nana merch."
When games and anime embrace Westwood's insolent womenswear, femme community members get an aesthetic to finally identify with. Our options suddenly balloon from either a The Last of Us jeans and t-shirt or Bayonetta bondage gear to something more individual. Artistic. And like Westwood, who famously dressed the Sex Pistols, could be mean in interviews, and shaved her head at age 72 to protest climate change, nerdy girls might like to think of ourselves as punk. At least, I think we have reason to.
Geek chic prevailed a few years before geek guys tried to crack a changing, expanding fan identity with GamerGate, "ostensibly […] a reclamation of the term 'gamer'," but mostly "knotted in conspiracy theories" and harassing women in the industry, Stephen Totilo wrote for Kotaku in 2014.
Nearly a decade later, some things have changed. The 48% of female-identifying gamers in the U.S. and rise of inclusive gaming spaces certainly point to "gamer" being a more malleable term, but sexism is a stubborn goat. Being a woman in gaming can sometimes feel like being accidentally political. Westwood's spoofing of courtly, old Britain—corsets, pearls, Saturn's ring dangling peacefully amid rhinestones on our necks—fits right in. Though she's gone, her timeless influence on gaming and geek culture at large can't be unlaced.