It's the second instalment in our look at games that perhaps don't invoke as much warmhearted nostalgia as they really ought to. Some of these were huge at the time, but have since been overlooked, other managed to slip completely under the radar.
Many of these will be familiar to veteran gamers, though, so if you can think of some even more obscure classics, please add them in the comments section.
FreQuency (Sony, PS2, 2001)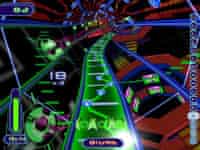 The first title from music game innovator Harmonix was a compelling cross between Tempest and Rez. Your avatar, FreQ, zooms down an octagonal tunnel, swapping walls to hit the correct musical chunks and keep the soundtrack pumping. Fans of the musical game genre recall this trailblazer fondly, but it doesn't get enough credit for its crucial interface innovations. Famously, then VP of Xbox, Ed Fries, turned the game down, but suggested the team work on a similar idea with a dedicated controller. They went away and made Guitar hero.
Gitaroo Man (Koei/Ini, PS2/PSP, 2001)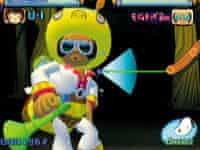 Of the many rhythm action games involving talking dogs and heroes that transform from lonely schoolboys into guitar-wielding galactic saviours, Gitaroo Man is definitely in the top three. Developed by music game specialist Inis (which would go on to create the Xbox karaoke title, Lips) it's a deranged mash up of teen manga, weird future rock and beat-'em-up complexity. PaRappa got their first and is the more approachable of the two, but Gitaroo Man is a joyous celebration of music, fashion and surreality. A later PSP version added new modes and was well-received, but the title has never escaped its 'cult' label.
Hellfire (Toaplan, arcade/Mega Drive/PC Engine, 1989)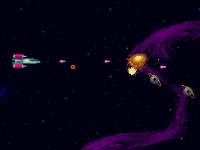 Okay so the late eighties and early nineties saw no shortage of beautiful scrolling shooters, but when the subject comes up, it's the works of Irem, SNK and Treasure that tend to get eulogised. The now sadly defunct developer Toaplan was a master of the genre though, and Hellfire is a scorching space blaster with a wonderfully balanced and satisfying weapon system that lets you quickly swap between four different laser types to take on the various attack waves. The Mega Drive conversion is arguably better than the arcade original, adding a super cannon and new difficulty levels, and it remains one of the console's finest moments. Incidentally, Toaplan followed Hellfire with another side-scroller, Zero Wing, which, in its European Mega Drive conversion, contains the immortal line, "All your base are belong to us".
Interstate 76 (Activision, PC, 1997)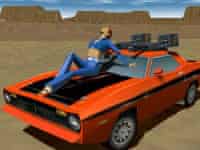 Released in the midst of a major seventies revival, Activision's stylish driving adventure was a spot-on pastiche of that era's cop shows, road movies and paranoid thrillers. Set in an alternative America where the 1973 oil crisis has never been resolved, it follows unlikely heroes Groove Champion and Taurus as they go up against a Mad Max-style army of muscle car psychos. The brash flat-shaded visuals and funk jam soundtrack accentuate the exploitation feel, and there is some brilliantly dark humour hiding behind more conventional period references. There was a sequel, Interstate 82, and a spin-off series of car combat games, Vigilante 8, on consoles, but it seems like a proper remake would go down well on Steam.
Little Big Adventure (EA, PC/PlayStation, 1994)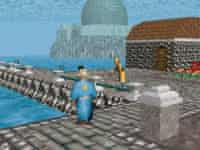 The early-to-mid-nineties saw a burst of creativity in the French development scene with titles like Alone in the Dark, Flashback and Rayman attracting worldwide acclaim. Among these idiosyncratic gems was Little Big Adventure, a colourful science fiction epic developed by Adeline Software, and overseen by Frédérick Raynal, the co-creator of the Alone in the Dark series. The surreal narrative follows unwilling prophet Twinsen as he journeys across his world to defeat evil overlord, Dr. Funfrock. The appeal is in the disarmingly neat isometric visuals and strange puzzles and side-stories, and the game sold well enough to spawn a decent sequel. There has been talk of a remake, but the title's quirky charms are unknown to many younger adventure fans.
Meridian 59 (The 3DO Company, PC, 1995)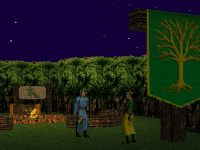 While the ill-fated 3DO company is best known for its failed 32bit games console, it was also the publisher for this seminal massively multiplayer online RPG. Originally coded by brothers Andrew and Chris Kirmse in their parent's basement, the game arrived before Everquest and Ultima Online, bringing 3D visuals to the online adventure genre and introducing a large fanbase to many of the key conventions that would follow. After 3DO abandoned the title in 2000, the game was taken on by Near Death Studios, which itself closed in 2010. But somehow it has survived and is now run as a free-to-play open source project by the Kirmse brothers. A living piece of MMORPG history.
Mischief Makers (Nintendo/Treasure, N64, 1997)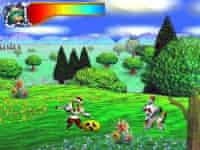 Named Yuke Yuke!! Trouble Makers in Japan, this delightfully colourful and energetic puzzle scroller from Treasure pits ultra intergalactic cybot Marina against the evil Clancer empire as she fights to rescue her imprisoned employer. Created by many of the team behind the legendary Gunstar Heroes, it has a gorgeous kawaii styling and an interesting attack mechanic that allows Marine to grab and shake enemies. With its offbeat level design (Marina has to compete in an athletics event in one mission) and decent boss battles, Mischief Makers achieved cult appeal at the time, but because it could be finished reasonably quickly, reviews were muted. Some kind of Wii U/3DS update or at least a Virtual Console port would be extremely welcome.
Nato Commander (Microprose, Apple II/Atari/C64, 1983)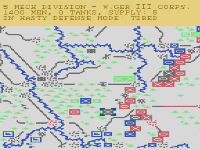 The first military strategy sim designed by Civilization creator Sid Meier is recalled by fans of the genre, of course, but often overlooked in retrospectives of the famed game designer. Set during the Cold War, the player is tasked with moving allied forces against Russia and its Warsaw Pact brethren as nuclear war threatens in the background. Like the later, and incredibly chilling Theater Europe, it captures the paranoia of the era, but Nato Commander also brings in political elements such as strikes in munitions factories or friendly nations inconveniently surrendering mid-offensive.
The Neverhood (Neverhood, Inc/Dreamworks, PC/PlayStation, 1996)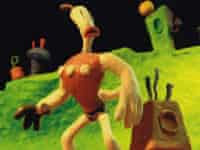 Designed by Earthworm Jim artist Doug TenNapel, this is an unusual claymation-based point-and-click adventure starred an amnesiac figure, Klaymen, who wakes up on a deserted world and must discover what has happened. The animation is beautiful, the slowly unfolding narrative intriguing, and there's a great soundtrack by cult American songwriter Terry Scott Taylor. It was admired at the time, but nostalgic recollections of nineties adventures are now largely dominated by the great LucasArts adventures so The Neverhood is often overlooked. There was a sequel, Skullmonkeys, and last year TenNapel ran a successful Kickstarter to fund a spiritual successor, Armikrog – although the right-wing views he has espoused on Republican opinion site, Brietbart, have caused controversy.
Oids (FTL Games, Atari ST/Mac, 1987)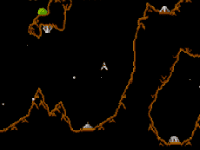 Over-shadowed in its day by the mighty Commodore Amiga, the Atari ST computer had few of its own original titles to shout about. One of them, however, was this inertia-based shooter, which borrowed elements from sub-genre heavyweights Gravitar and Choplifter as well as Defender to tense and exciting effect. The aim is to navigate a series of minimalist caverns in your dart-like craft, taking out enemies and rescuing robotic hostages – the eponymous Oids. A key appeal of the game is its taut fuel system: you need the stuff both to fly and to recharge your shields, so there's a constant balance going on as it slowly runs down. FTL, of course, would later become much better known for its hugely innovative and influential first-person RPG, Dungeon Master.