I'm begging you, Nintendo
Nintendo has been in a trend of bringing back its classic games recently — most notably the return of its Sports series by way of Nintendo Switch Sports, as well as rumors that have been circulating about an official Game Boy Advance emulator. The company likes to hold its cards close to its chest, so to speak, because it knows the chokehold that classic games have on us fans. But now that Nintendo is finally rereleasing, revamping, and monetizing our old favorites, I have one simple request: bring Nintendogs back on Switch.
Nintendogs: what's the deal?
For those who haven't played any of these games, or just simply don't remember, let me give you a little refresher. Nintendogs is a series of real-time pet simulators released for the Nintendo DS in 2005. There were six total versions of the game that were essentially all released at once for the DS, including Labrador & Friends, Shiba & Friends, Chihuahua & Friends, Dalmation & Friends, and the Best Friends Version, with the main differences among them being the dog breeds featured in each version, as well as geographically where they were released. For example, the Shiba edition was only released in Japan due to the breed's popularity in that country.
For some reason I thought there were a ton of sequels, but there's only one, Nintendogs + Cats, which was released for the Nintendo 3DS back in 2011. I definitely had more than one copy of the game, something that was popular amongst fans who wanted to collect them all, or try out the different breeds that the various titles had to offer.
Not only were the Nintendogs games insanely popular, but they also really paved the way for pretty much all of the pet simulator games to come.
Sweet, soothing gameplay
The main gameplay includes adopting dogs, petting them, washing them, playing with them, walking them — you know, what you do with dogs in real life.
The highlight of the Nintendogs experience for me is the training, specifically the agility course you can do, because you get to lead your dog through the obstacles and compete for the fastest time. Plus, the commentary we got from the competition's hosts Ted and Archie, which was hilarious and rife with sexual tension. It's one of those games that has plenty to keep you engaged and enjoying the experience, but not so much going on that you can't have a chill, relaxing time with your pups.
I know for a fact that I'm not alone in wanting a Nintendogs game for the Switch — other players who also have nostalgia for the pet simulator series have been asking for a revival of the franchise for years. There's also a ton of crossover with the Animal Crossing and Pokémon fandoms, two series that both include adorable animals, relaxing gameplay, and most importantly, have made huge profits for Nintendo over the past few years.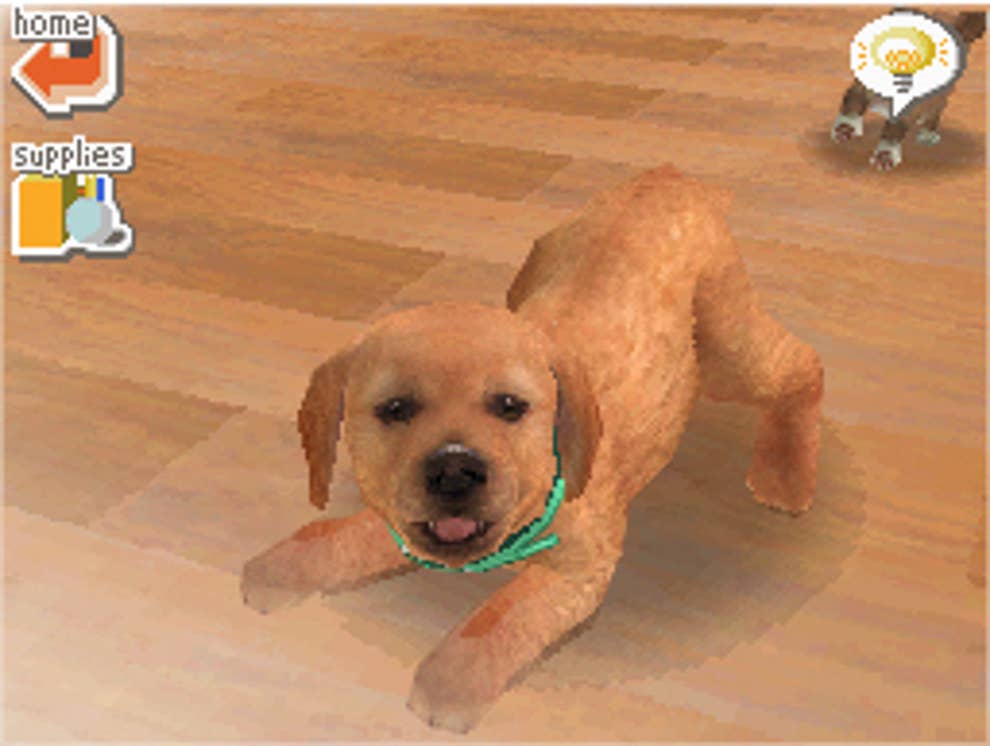 Gone, but never forgotten
It's one of those games that was so beloved at the time of its release, it has remained in the collective consciousness of both fans and Nintendo alike. I mean, the company has been putting Nintendogs references in its other games for years, so we know it hasn't stopped thinking about its legacy either. Seems like a fairly cut-and-dry win-win situation to me — fans get a brand new version of one of their favorite childhood games, and Nintendo gets to make a pretty penny.
I know the touch screen and microphone were a big part of the gameplay of the original Nintendogs, but I think they could make some really fun changes with the Switch's hardware. The first thing that comes to mind is the Poké Ball-throwing mechanic in Let's Go Pikachu/Eevee — that's something simple that would translate well to Nintendogs, and that's just off the top of my head! C'mon Nintendo, I know you guys are creative, and I'd be dying to see what a fun new spin you could put on the series these days.
Until you wise up, I'll be right here with Nintendogs money burning a hole in my pocket. The squeaky ball is in your court.